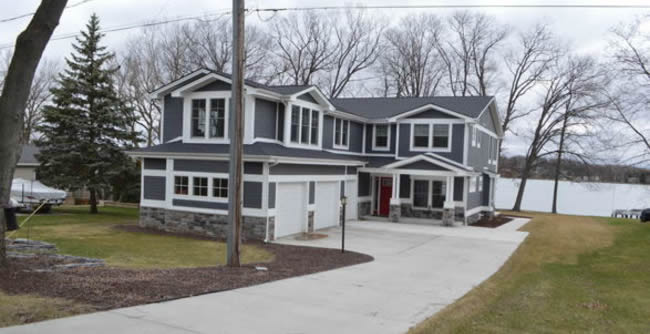 Real estate auctioning is a dog eat dog world. If you have decided to auction off your home or property, there are a few things to think about from the buyer's perspective. We want to help you make the best impression on the buyers so there will be more competition for your home, which means a higher resulting value. Just like you would if you were selling a real estate conventionally, you want your home to look perfect the day of the showing or for taking pictures for online marketing. You want your real estate to be the highlight among the other homes selling at auction at the same time. Here are some tips to make your home stand out from Gary M. Berry, a St Clair County Estate Auctioneer.
1) Make the First Impression Great
Driving up to the curbside and peeking out to their potential home is the very first impression a buyer will have of the home. You want your front yard to look pristine and well maintained. Having a lush garden of plant life certainly wouldn't hurt your chances of wowing the buyer! A good tip is to drive up to your home and pretend you are the buyer, and see what needs touching up from first glance.
2) Create the Front Door Experience
The front door is the first and last thing a buyer sees as they walk up to their potential home. This gateway to the home will tell a tiny story of what they should expect on the inside. Put a fresh coat of paint on your front door to make it shine and say, "Come on in!" The entire entryway is important to make it look appealing to the buyer for the very same reasons. Try adding some plant life to your doorstep, including an inviting doormat, and shining all the hardware.
3) Repaint Your Walls
While it can be a tiresome task, repainting your walls is a great way to provide some much needed spunk to the inside of your home! Neutral and lighter colors tend to be favored since they make the home look bigger and refreshed. A brand new coat of paint to your scuffed walls can easily sway a buyer to think, "I can see myself hanging a picture there, and there, and there."
4) Clean…Everything!
If the buyer comes inside your home, you want everything to look perfect! Having less stuff and no personal items around the house makes it easier for the buyer to picture themselves living there. Keep in mind that, when we say clean, we mean CLEAN. With our daily lives, we grow accustomed to a way of living, may that be in a not-as clean environment. You need to deep clean everything in sight. Try renting a power washer for a day, scrubbing all the sinks by hand, and deep cleaning the carpets. All of this goes a long way to impressing the potential buyer.
Contact Gary M. Berry, Auctioneers – Realtors for Your Estate Auction in St. Clair County
By following these tips, you'll have your home sold with much competition from the buyers! If you have any more questions about auctioning your home in the St Clair County area, get in touch with Gary M. Berry, Auctioneers – Realtors today!
Gary M. Berry, Auctioneers – Realtors is a Michigan Auctioneer serving St. Clair County, Genesee County, Macomb County and Oakland County.
Call Us Today! 248-299-5959